Edibles
I know what I want...
Vegetables and herbs are sorted in the A-Z categories by their common name. If you are looking for a specific vegetable, for example 'carrots', you might find it quicker to use the seach box above.

Every garden should grow something that you can eat even whether you have a full on allotment or just a fourth storey window ledge. The flavours and goodness packed into home grown veg far surpasses anything that can be bought in a shop. We stock a huge range of vegetables and edibles from the humble root veg to long forgotten herbs And don't forget to throw down some green manure to reinvigorate your soil every now and then.
All you can eat!
Everyone should grow something to put on their plate: a herb to add panache some hearty veg, and a tasty salad.
To help you find your perfect crops we've separated them into handy sections.
Nothing beats home grown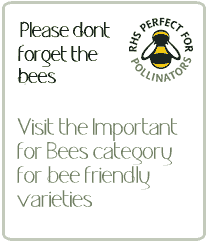 Please use the menu above to browse through our extensive vegetable and edible section. If you know what you want, you may find it quicker to use the search box.