Addicts!
Starting Seedaholic was the logical progresion for a couple with a long-term seed addiction. Over the last decade we have had the pleasure of supplying a seed 'fix' to gardeners throughout the world including first-timers, old -timers and born-agains. We have supplied seeds to stately homes, urban flats, botanic gardens, universities, primary schools, public parks and suburban oasises.
It is the understanding of seeds as being the very foundation of a horticultural project that drives us to provide the best quality seeds available and get them to you as quickly as we possibly can. In essence, we provide the type of seeds and the class of service that we would like to receive.
Organic Certification: 7510
Seed Packers Reference: IECS147
Company Registration: 427987
Vat No: IE 9766 864O
Informed choice
With a catalogue containing nearly 2,500 varieties (and growing all of the time) choosing what to grow can often be a touch daunting. You will find the site crammed with as much information as we can to help you decide what you want to grow, where you can grow it and how to grow it.
While experienced gardeners have their own tried and trusted methods, our aim is to provide as much information to ensure successful growing. We feel that this is an important feature: an essential tool for the new gardener, a helpful reference for the more experienced and the perfect accompaniment to seeds given as gifts.
And when the decisions made and the order placed, we post out each seed variety attached to an attractive A5 information sheet that gives a photograph, description and information about the plant, along with germination and aftercare guidance.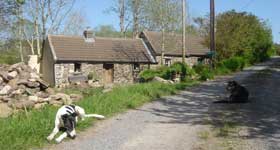 We hope that you find the site helpful, easy to navigate, interesting and useful. We have put seeds into a number of categories to help you find inspiration for a specic need, or if you know what you'd like, there is a search box at the top of each page.
Our address is: Cloghbrack, Clonbur, Galway, Ireland.
Tel: +353 (0)94 954 8756 1pm-5pm only please.